Bright is a Victorian town in the Alpine Shire, close to the Mt Buffalo National Park, Alpine National Park and Mount Hotham. I visited before winter set in, just after The Autumn Festival had finished, but in time to enjoy the autumn colours and tints.
The town was busy for a cold week-day but the autumn sun lit it all up.  The Bright Brewery proved to be a good base for meals, drinks and as a kick-off point for drives and walks. Balcony views – supported by abundant heating – overlook the Ovens River.
The craft beer selection at the brewery was impressive.  Take one with you to accompany a pork and pear pie from the Punkah Pantry, at the nearby village of Porepunkah.
I was in Bright to learn more about photography.  We focussed during the daytime on walks along the river and drives up to Mt. Buffalo and Lake Catani or local falls, still fairly dry in May. At night we did  light painting experiments and astrophotography, with our own personal photography guru, Matt Krumins, lighting up the way for our slow shutter speeds.
I liked the crisp mornings, sunny days, lovely autumn colours, the variety of landscape, the brewery and friendly town, the quaint nearby villages and the mountain backdrop.  Choose your season and go for it.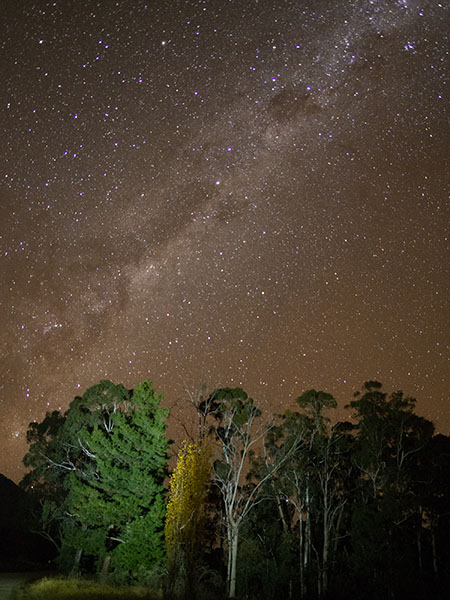 THE END