A Tip of the Patagonian Icefield.
I was one of the 200,000 annual visitors to Argentina's Perito Moreno Glacier. But unlike the majority of them, my choice was to stay much longer than the regular two-day stint.
Perito Moreno Glacier is beautiful and accessible, but it is only one of more than 200 glaciers in the Los Glaciares National Park, and there are many more attractions. The Park which is World Heritage listed and near Argentina's border with Chile, is in the Southern Patagonian province of Santa Cruz. It covers over 726,000 hectares, half of which is covered by the Patagonian Icefield, one of the world's largest expanses of ice.

Welcome sign at El Chaltén © Marjie
Courtis
You can guide yourself in many areas of the park, but if you prefer, qualified guides are available from El Chaltén, and El Calafate, for a vast range of activities — you can take traditional treks, ice treks and ice field expeditions, visits to petrified forests, or go climbing, camping, bird-watching, boating, fishing, horse riding, and mountain biking.
I took the self-guided option as far as possible, with unexpected discoveries off the main tourist trail. I based myself in the village of El Chaltén three hours away by bus. It is a quainter place to stay, friendlier for the independent traveller and the one with the most access to self-guided walks.
Of course, I wasn't going to miss the Perito Moreno Glacier. From El Calafate, I took the "Tour Alternativo" which took the backroads to Perito Moreno Glacier at a leisurely pace. There was time to stop and watch crested caracaras from their preferred positions atop the calafate bushes, scanning the horizon for potential prey or guarding their nest of chicks, and to visit a small ranch (estancia).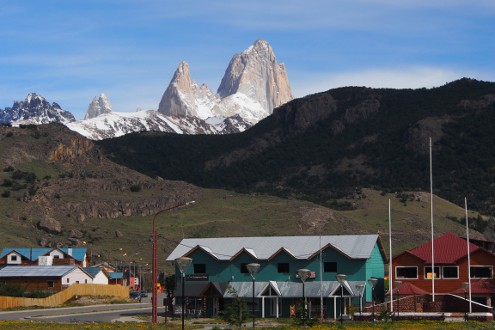 El Chaltén, the Trekking Capital © Marjie Courtis
Only after a relaxing walk along an arm of Lago (Lake) Argentino, did we join the hundreds of other visitors on the viewing platforms. Majestic blue hues contrast with the white – and occasionally dirty-brown, ice with its jagged pinnacles and ridges. And in November, Chilean flame trees lit up the view with their bright red flowers.
El Chaltén, 200 kilometres from El Calafate, is known as the Trekking Capital of Argentina, although its origins are political rather than pedestrian. Founded in the 1980s to protect Argentina's border with Chile, El Chaltén appears to have grown in a topsy-turvy fashion, but is a very relaxed base to spend a few days. There's a variety of accommodation and camping is an option.
By visiting in November I avoided the crowds, since it was just before the summer peak season. The downside was that there were days of low visibility and cold, windy weather with snow flurries and icy ground. The National Parks office provided good advice though, including maps which provided good baseline information about each available trek, describing the length, the number of metres to be climbed, and an estimate of time required in fine weather.

Perito Moreno Glacier, Los Glaciares National Park © Marjie Courtis
I took two all-day treks, the first to Laguna Torre, 11 kilometres, or 3 hours away, passing pack-carrying llamas, red-crested Magellanic woodpeckers spitting wood chips as they pecked for insects, and snow-laden bushes.
The weather changes rapidly in the National Park and by the next day I could see Torre Peak (3102 metres above sea level) and Mount Fitz Roy (3405 metres above sea level) from my hotel, both awesome, granitic-pink mountains that were so sheer in places that their ice cover has slipped and exposed the rock. That day I took a 12.5 kilometre walk with a 750 metre climb to see Laguna de Los Tres.
The initially flat walk was blissful, with butterflies flitting around among the moss and snow-covered trees, trees dotted with the beak-work of woodpeckers and the ever changing view of Mount Fitz Roy and the Piedras Blancas glacier.

Perito Moreno's Icy Surface © Marjie Courtis
While it wasn't all plain trekking, it was so satisfying to reach the lookout point to Laguna de Los Tres, white with ice against the pink granite of Cerro Fitzroy, looming above it.
In Argentina, you must go to Los Glaciares National Park. It is such a fulfilling natural experience after the bustling Buenos Aires. And as a natural wonder, so geographically and climatically different to the famous Iguazu Falls.
Just remember that Perito Moreno Glacier is only one tip of the Icefield of Los Glaciares National Park. Stay longer and discover glaciers and stunning views that will seem like your own.
TRIP NOTES
Getting to El Calafate: Flights
Flights to El Calafate (Within Argentina): Aerolineas Argentinas and LAN Airlines. Flight time from Buenos Aires is approximately three hours.
View from the walking track to Mount Fitzroy © Marjie Courtis
El Chaltén, the Trekking Capital © Marjie Courtis