My lemur route through Madagascar ("Mada") first took me to Lemur's Park out of the capital, Antananarivo ("Tana").
As a sanctuary, it's an excellent place to be introduced to a relatively accessible range of lemur species, both diurnal and nocturnal.
Madagascar
:
Sifaka © Marjie
Courtis
In the grand scheme of the animal kingdom, these enchantingly alien lemurs belong to the class of mammals, the order of primates and the family of Lemur (Lemuridae). Within that there are two sub-families, the Lemur and the Indri.
At Lemur's Park, there are Sifakas, part of the Indri sub-family but no Indri Indri. This species has successfully defied captivity.
So I took a mini bus ride about 100 km east of the capital to spend a couple of days to the high rainfall area of Andasibe.
I took a "nocturnal tour" with a local unofficial guide who simply took me for a walk along the roadside with a torch, spotting nocturnal lemurs by the reflections in their eyes.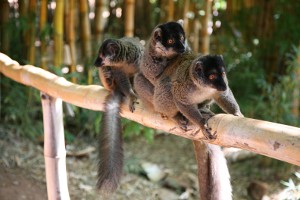 Madagascar : Brown Lemur Up Close & Personal © Marjie
Courtis
The next morning, my wake-up call was the unique high-pitched call of the Indri Indri. This literally alarming call carries through the forest for up to two kilometres. The call is best heeded, as it means that that the Indri Indri are up and about but you'll miss them if you take too long.
They prefer the mornings, and bounding from tree to tree to feast on the next delectable leaf is exhausting work. So an afternoon siesta to rest and digest the morning's leafy selection is essential.
Just as there is time-sharing between the nocturnal and diurnal lemurs, there is height-sharing between the Sifakas and Indri Indri. The Indri Indri forage at 13 metres but the Sifaka at 11 metres, with the Sifaka preferring fruits and flowers and the Indri Indri, leaves.
I took two tours in two different forests on two consecutive mornings. At their foraging heights, the Sifaka and Indri Indri are definitely hard to spot so a guide is essential, and is generally compulsory.
The National Park near Andasibe offered walks of different lengths and relatively good opportunities to see lemurs, though you were sure to be surrounded by a number of other lemur-spotters at the base of the tree they were in. When they leapt, they leapt fast and far and were not so easy to follow.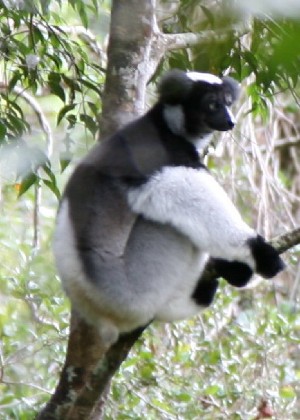 Indri Indri at Andasibe © Marjie Courtis
My second tour was with a guide in the Forest Analamazaotra, run by a local community association for conservation and biodiversity. A scout helped out my personal guide, Bakalalao, by seeking out the lemurs. Aloft, and aloof, and sometimes hidden by the canopy, it was sometimes a challenge to even watch them once discovered, let alone to spot them. Usually I was so captivated that I stood watching them for ages.
Once I noticed a crackling sound, a little like the sound of a pandanus leaf being pushed out of my way in the forest. It turned out that the Indri Indri was defecating! The sound I heard was the click-clack of pellets dropping 13 metres to the ground.
With my introduction to Lemur and Indri Indri relatively close to the capital, it was time to go out and about Madagascar and I left on a tour of the island.
I feel I've only started to get to know these really cute fellow-primates and I plan to add to my species tally on subsequent visits to Madagascar.
But the good news is that even if you just have a short time in Madagascar, it is possible to see a number of species, at two locations within several hours of the capital, Antananarivo.