A Week In Provence: Part I
Read Part II
My week in Provence seemed to zip along as quickly as the Train Grand Vitesse (TGV) that took me from Paris's Gare du Nord to Avignon.
It was European autumn and a couple of friends had rented the Mas des Roseaux for two weeks, a large French home in St- Rémy-de-Provence. They invited people from their global circle of friends to join them for a week each.
It was homely with its Provençal furniture in pale greens and terracotta's, cupboards stacked with bright local pottery, large and small tables, little alcoves and shuttered windows, as well as expansive lawns and pebbled areas, for playing pétanque or shuttlecock.
Modern wares at Les Baux, France © Marjie Courtis
Apart from its brevity, it was my ideal holiday, since I had a homely place to sleep and eat most nights, the opportunity to be with old friends and meet new ones, and a great base for country touring and brasserie lunches by day.
My week in St- Rémy-de-Provence is diarised below.
Saturday: Arrival
I arrived in Avignon by TGV from Paris. Picked up the hire car, drove to St Remy, dropped into our abode. Then mille-feuilles and coffee at a patisserie. Lots of gossip to catch up on at night given that we were all from different parts of the globe – UK, US, Australia, New Zealand.
Those mille-feuilles kept us happy all week, because the word is such a tongue-twister. All week we would see how our French was improving by trying to pronounce mille-feuilles correctly. Try it!
Sunday: Les Baux de Provence
With French brasseries on our agenda, we went to the village of Fontveille for lunch, en route to the cliff-top village of Les Baux de Provence ("Les Baux"). At the outdoor restaurant of La Table du Meunier, our host sported a deliberately Dali-esque moustache. His personality was exuberant and the food was good.
View of Olive Farm from Les Baux, France © Marjie Courtis
Les Baux is built on the limestone spur near the Little Alps (Les Alpilles) of the region. Les Baux lent its name to the mineral, bauxite, which was originally discovered there.
A walk in Les Baux is a walk through several layers of history. There is the modern commercial layer where the wares for sale include salt, olive oil, wine, soap, food, pottery, artworks, jewellery and trinkets. All this commerce takes place on the steps of a medieval village. These steps in turn lead you to a Crusader-era fortification at the top of the spur, constructed at various periods from the thirteenth to the sixteenth century.
The towers of the citadel that once provided a panoramic view disadvantageous to adversaries, now provide views of the olive-growing plains below. There are still working examples of defensive weaponry at the fortress. Although the combative era is over don't step over the wall surrounding the fortress. These days you won't be assailed by the enemy but you could come across a modern day hunter sporting a rifle. Signs warn you!
View from Arles Amphitheatre, France © Marjie Courtis
The twentieth century era of limestone quarrying is evident in the caves of Les Baux. But the day disappeared before I had time to visit them. Yes, Les Baux de Provence was definitely a place for a second visit. So I returned later in the week!
Monday: Arles, Montmajour
Many attractions are closed on Mondays in Provence. So flexibility was required. We decided to hear off towards the town of Arles in our rental car. En route we stopped to regard the ruin of the Abbaye de Montmajour with its twelfth century quadrilobed chapel (an architectural style in the shape of a Greek cross, with four rounded nodes surrounding the centre.)
Some eighteenth century additions were also evident. However, the eighteenth century was when the ruin set in – not just physical but moral ruin! Among other things, the last abbot of Montmajour was implicated in a scandal surrounding Marie Antoinette and a diamond necklace. It appears he was duped but became a go-between in an attempt to prise money from the Royal Court for an extravagant diamond necklace. Louis XVI shut down the abbey in retribution.
But no, we couldn't go inside. It was closed on Mondays.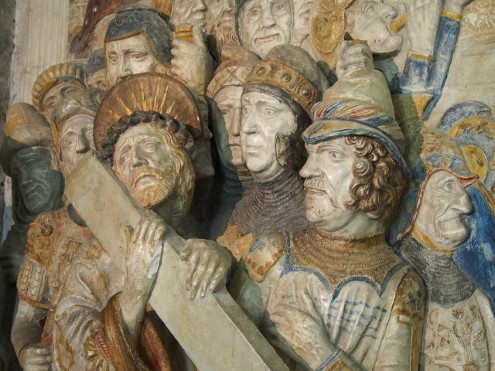 Inside the Palais des Papes, France © Marjie Courtis
In Arles we were in luck as the World Heritage Listed Roman Amphitheatre was open. The elliptical structure, which is the twentieth largest remaining Roman Amphitheatre, has two levels of sixty semicircular arches. Drawings of medieval homes densely crowded into the original structure were on show, but the houses were cleared long ago, returning the arena to an authentic state.
The town shows its age and Ages — Roman, Medieval and Modern. From the amphitheatre you could see the twelfth century church, the Eglise Notre-Dame-de-la-Major, mediaeval buildings converted to brasseries, and stepped streets, sometimes charming and sometimes sombre. Arles is shabbier than Avignon, although Van Gogh made it look chic.
Even by Tuesday, I'd seen, tasted and experienced much of Provence. And there was more to come. Continue with my adventures for rest of the week …